---
Blarneystone Miss Valdez, F. Ch.
"Val"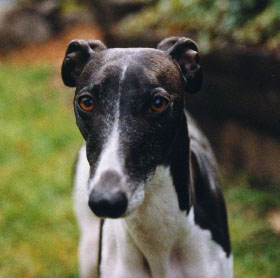 Photos © 1999 Cathy Wilson. All rights reserved.
Get the bunny!
We got her through a Whippet rescue organization in Olympia in February 1999. Her previous owners were moving and didn't want to take her with them. We can't imagine why anyone would want to give up such a sweet, lovable dog!
Breed: Whippet - black and white
Dam: Windyglens Iditarod; Sire: Hustlin' Dan O' Blarneystone
Born: August 31, 1995
Came to live with us: February 11, 1999
Died: May 22, 2002
Likes: sleeping, eating, chasing the bunny (everything's a bunny), being petted, running in general, chasing the frisbee
Dislikes: coming inside when the weather is nice, going outside when the weather is bad
---
---
---
For those who asked, yes, we did get another whippet.
But one wasn't enough. So we got another.
Then Mamba died (he was old), so we got yet another.
Our family was complete.
Then Pixie died. I enjoyed spending time with just Snazzy for a while.
When we were ready, Cherry came to live with us.
But now Snazzy's gone, so it's just Cherry for now.
---
You are visitor number

Background © 1999 Cathy Wilson. All rights reserved.