Puder
Fall 1985 - August 11, 2001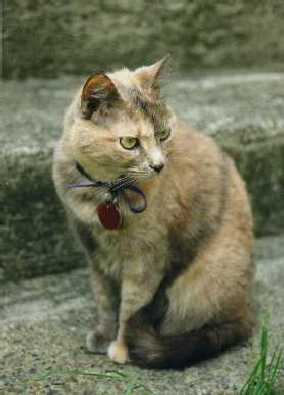 Photo © 1996 Cathy Wilson. All rights reserved.
I found her as a kitten in the fall of 1985. She was outside my dining room window crying in the rain to be let in to my neighbor's apartment. I brought her inside and she has been with us ever since.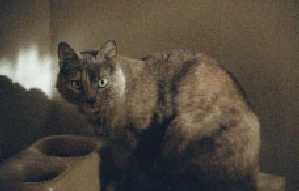 Breed: Domestic Shorthair - tortoise shell
Born: Fall 1985
Likes: beating up her toys, a warm place to lay (like a lap)
Dislikes: having her back scratched - it's ticklish!
Puder's funniest story was when we put a doggie door in for Val. Puder was sitting in the sun room half asleep when Val went out the new door. From Puder's point of view, Val had just walked through the wall. Puder, still half asleep, kind of did a double take, started to doze off, looked at the wall where Val had disappeared, started to doze off, looked at the wall, started to doze off...we were standing there with our hands over our mouths to keep from laughing so we wouldn't disturb her. After a few moments of this, Val came back in the doggy door. This was too much and Puder had to investigate closer. She walked over to the doggy door, pushed the flap open and walked outside. When she went to go back inside, she tried to pull the door open with her claws. Throughout her life, she had learned that if you push a door one way, you had to pull it the other! I had to teach her to push it both ways! (We don't advise letting cats outside unsupervised.)

Beating up Magic