Exploring the T-Mobile Area: The Luxor and Back
April 16, 2016
There was nothing going on on the Strip this night. Nothing going on in the Mandalay Event's Center, nothing at the new T-Mobile Arena. So I decided to go exploring and check out the new Park, the area in front of the Arena with restaurants and shops. OK, restaurants and bars.
I parked at the Luxor on the upper level. Walking to the casino, I noticed that there was something wrong with the pyramid's lights.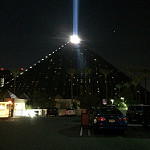 I took the moving walkway to the Excalibut, then walked to NY NY. The down escalator was torn up due to being maintained. Past NY NY, past the NYNY Starbucks, past a DJ playing music on the "bridge" with people dancing. Wait, were they doing a line dance to hip hop? And there is the Park sign.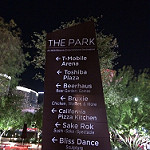 I don't know what that is. It looks like a mini arena. It may be part of Monte Carlo.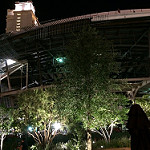 Here is the Bliss Dance statue. There were lights on opposite sides used to light it up.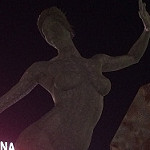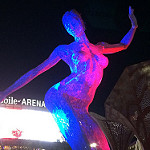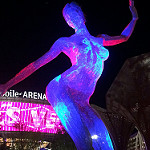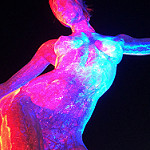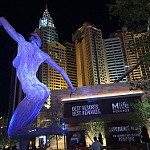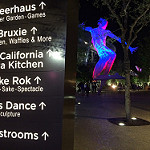 And then there's Toshiba Plaza. It's the area in front of the arena. The web says it will be used for festivals and can have a stage with bands.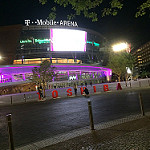 (Part of my series of pictures of people taking pictures of people)
Roller coaster from Toshiba Plaza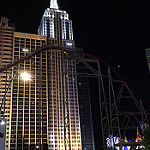 There is a parking garage next to Toshiba Plaza. I believe it's NY NY's parking garage. There are pay stations and red or green lights showing where there are avaliable parking spaces.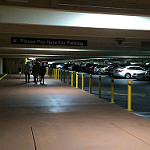 Toshiba Plaza from parking garage escalator.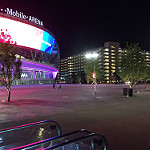 Fountains in the Park. I was testing out the Slo-Mo video feature. (I know, this is a photo. I'll link to the video later.)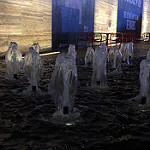 And I checked out the restrooms. This is pretty cool. From right to left are the soap dispenser, the water faucet, and the blow dryer!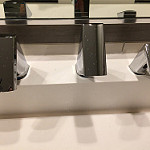 But wait, there's more! When I put my hands under the blow dryer, I noticed there was a light that said, "Dry" shining on my hand!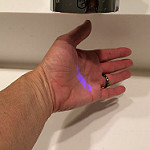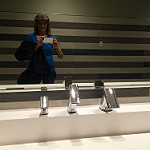 Remember that Starbucks I mentioned ealier?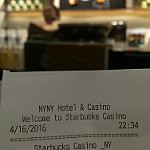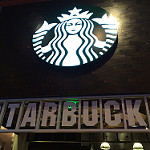 Reflection of the Excalibur in the NY NY pond.
cdw